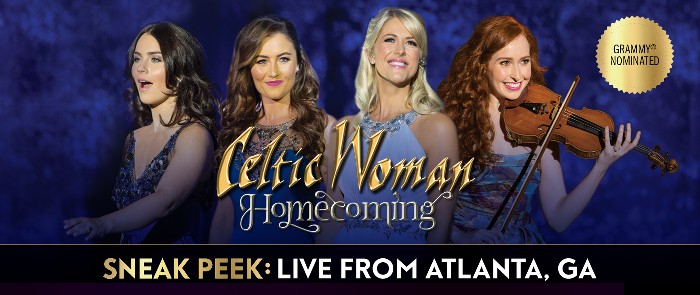 TUNE IN ON FACEBOOK TO EXPERIENCE THE GRAMMY NOMINATED CELTIC WOMAN LIVE FROM ATLANTA, GA TONIGHT AT 8PM ET!

WATCH HERE
Celtic Woman, the multi-platinum international music sensation, is returning with a brand new live show for an extensive North American tour streaming LIVE on Facebook tonight from Atlanta, Georgia. The much-anticipated concert, 'Homecoming,' will play in more than 90 U.S. and Canadian cities from coast-to-coast.
Celtic Woman continues to transcend national and cultural boundaries to celebrate the timeless emotion of Ireland's centuries-old heritage. A one-of-a-kind live act, Celtic Woman combines the country's finest musical talents with epic stage production to present a uniquely inspiring live experience.

DVD/CD in-stores & available digitally now.

Celtic Woman coming to a city near you!

For ticketing information, click through to our tour page.