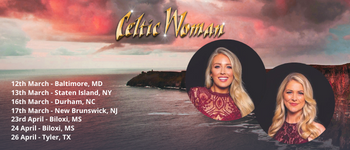 Hi All!
We have some exciting news.
Chloë Agnew re-joins us for our new 'Postcards from Ireland' 2022 tour. As you will remember, Chloë was one of our original performers joining the group when she was just 15 years old for our first ever PBS Special, and toured with us around the world for nearly a decade.
We are also delighted to share the news that the wonderful Susan McFadden will be joining us for *seven shows (listed below) on the 2022 tour. In these same seven shows Chloë Agnew will not be appearing:
*12th March - Baltimore, MD
13th March - Staten Island, NY
16th March - Durham, NC
17th March - New Brunswick, NJ
23rd April - Biloxi, MS
24 April - Biloxi, MS
26 April - Tyler, TX
View all dates here.