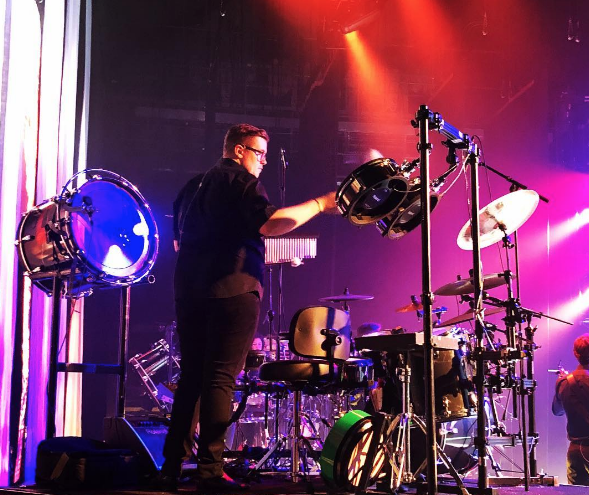 In the first of our new #MeetTheBand Series we meet with Kieran Leonard the drummer behind Celtic Woman.
When did you join Celtic Woman?
I joined CW at the end of January/start of February 2019, just before the Ancient Land tour. I got a call from the Musical Director at the time Gavin Murphy, and asked me if I fancied a bit of a tour!! I had around 3 weeks notice before heading into rehearsals, and everything happened really quickly. It was a crazy couple of weeks getting visa appointments, learning new material and meeting an entirely new cast & crew, but I'm delighted I answered the call and said yes!
When did you first start playing drums?
I was roughly 4 or 5. I used to go crazy when music came on the radio, and would rock back & forth on my high chair! (There were one or two accidents with it toppling over!!) My parents noticed I'd drum along with the cutlery, so they asked a local drummer & teacher, Peter Watson, to come out and see if it was any good!! The rest is history and Peter taught me then for the next 10 years.
Do you play any other instrument?
I grew up immersed in Irish Music, so I started off learning the Tin Whistle & moved on to the Flute (wooden flute). I still play those today and get great enjoyment from them. I suppose my day job requires me to play dozens of different instruments! 9-5, I'm a freelance Timpanist & Percussionist working with Orchestra's & Opera companies across London, Dublin & Belfast. I have to be as comfortable as I can playing all sorts of instruments big & small, from a shaker, to a triangle, right up to Marimba's & Tubular bells. It's a wonderful career and each day can be different with more and more new instruments being added to the repertoire!
Whats your favourite CW song to play?
I have a few favourites, but 2 stand out to me for having a lovely groove and feel to them. The first is Mairead's version of Dúlamán. When we got to rehearsals in Dunboyne, I was playing along and felt like it could do with a half-time shuffle groove!! (Every track needs a half time shuffle!!!)
It wasn't in the arrangement, but it worked! The Choreography in turn changed and adapted to incorporate that groove, so the next time you're watching us perform it, look out for some funky dance moves & rhythms towards the end!
The second is 'I See Fire'. A gorgeous song renowned for its affiliation to the 'Hobbit' film series, and one that Megan sings in the show. It's a really lovely feel to this track. The drum part has some subtle tom hits to change the vibe. It's a pretty stripped back version but works so well and I really enjoy playing it each night. Fun (or not so fun) Trivia, I was originally booked to record Bodhrán on the last Hobbit movie! Unfortunately due to time constraints, It didn't happen. Naturally, I was pretty disappointed not to be a part of that soundtrack, but its nice to get to play this live!
Do you have a favourite tour memory?
It's probably everyone's favourite tour memory, but playing Red Rocks was a moment I'll never forget. It's an iconic venue, and was the perfect way to finish our Ancient Land tour in 2019. I'm a big family orientated guy, so my other favourite memories would be when my Mum & Dad surprised me in New Jersey last year! They got to see the show, and I got to spend some time with them during the tour, that really meant a lot to me. Along similar lines, my girlfriend Leah visited during the European tour in Copenhagen! Cast & Crew had two days off there, so we all got to hang out, watch an Emeli Sandé gig and make the most of the down time.